Jangkaan Google Pixel 6 dan Pixel 6 Pro Dilancarkan November Ini
Tiada spesifikasi penuh namun gambaran jelas peranti telah tertiris.

Pada 2 Ogos 2021, Google telah mengeluarkan kenyataan bahawa mereka bakal melancarkan peranti baharu yang dijangkakan akan dilancarkan pada November ini iaitu Google Pixel 6 dan Pixel 6 Pro.
So excited to share our new custom Google Tensor chip, which has been 4 yrs in the making (📎 for scale)! Tensor builds off of our 2 decades of computing experience and it's our biggest innovation in Pixel to date. Will be on Pixel 6 + Pixel 6 Pro in fall. https://t.co/N95X6gFxLf pic.twitter.com/wHiEJRHJwy

— Sundar Pichai (@sundarpichai) August 2, 2021

Menurut laman sesawang Google Blog, kedua-dua peranti ini bakal dijanakuasakan oleh cip pemprosesan Tensor SoC yang diberi nama hasil daripada Tensor Processing Uniots (TPU) yang digunakan Google sebagai pusat data mereka.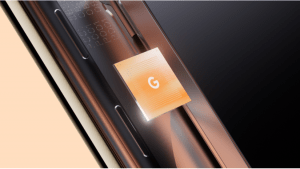 Menurut laman sesawang itu juga dengan binaan teras keselamatan baharu Tensor dan juga Titan M2, ini akan menjadikan Pixel 6 adalah peranti yang mempunyai tahap keselamatan yang tinggi. 
Menurut laman sesawang The Verge pula, secara ringkas bagi spesifikasi Pixel 6 akan hadir dengan 6.4 inci FHD+ dengan kadar kesegaran semula (refresh rate) 90Hz. Kedua-dua peranti ini akan dilengkapi dengan Tensor SoC baharu, Titan M2 cip keselamatan dan juga sensor cap jari pada skrin.
" The Pixel 6 and Pixel 6 Pro have new materials and finishes, too — like the Pro's light polished aluminum frame, and the 6's matte aluminum finish. And they both feel great in your hand.  " – Rick Osterloh, Senior Vice President, Devices & Services
Jadi teruskan bersama kami supaya anda tidak terlepas untuk mendapatkan informasi terkini bagi spesifikasi penuh Google Pixel 6 & Pixel 6 Pro apabila ia dilancarkan nanti!